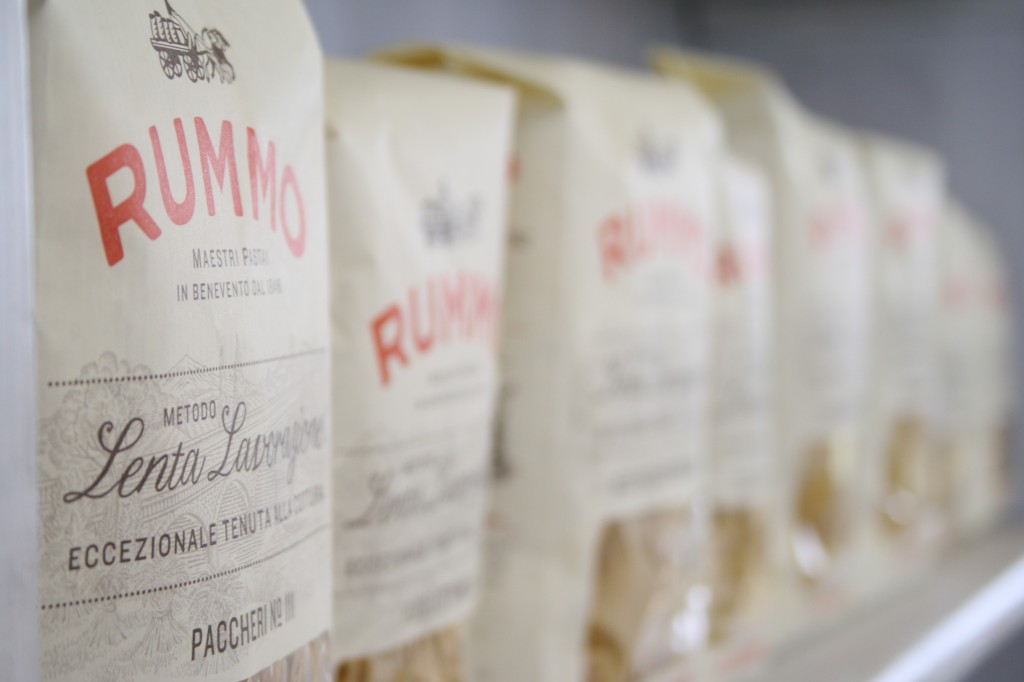 Vi har en god nyhed til alle jer, der ligesom os elsker god pasta. Vores absolutte favoritmærke af tørret pasta, Rummo Lenta Lavorazione® kan nu købes i Kvickly og SuperBrugsen i hele landet. Luca importerer Rummo Lenta Lavorazione gennem sin virksomhed L'Italia Buona, og heldigvis synes Coop ligeså godt om pastaen som os og har valgt at tage Rummo Lenta Lavorazione® ind som en del af det faste sortiment.
Der findes mange gode italienske pastamærker – en del af dem fås efterhånden også her i Danmark, men pasta fra Rummo har, udover en supergod smag, en helt særlig evne til at holde formen og den vigtige al dente-konsistens, når den koges. 
Grunden til det er, at Rummo har udviklet og patenteret en særlig metode, der sikrer, at pastaen altid er 'al dente', med bid i.
Metoden kalder de Lenta Lavorazione®, som oversat til dansk betyder 'langsom forarbejdning'. For italienerne – og alle andre pastaelskere – er der to ting, udover smagen selvfølgelig, der skal være i orden for en sublim pastaoplevelse. Pastaens kogeevne, altså hvorvidt pastaens konsistens forbliver 'al dente', når den koges, og så pastaens evne til at optage smag fra sovsen.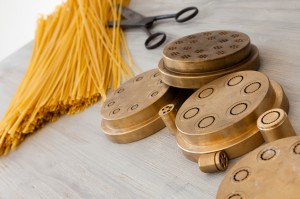 Meget kvalitetspasta produceres gennem bronzeforme, som gør, at pastaen får en mere porøs og ru overflade. Det betyder, at pastaen bedre kan optage smag fra sovsen. Men produktionen med bronzeforme betyder samtidig, at pastaens kogeevne nemt forringes, så pastaen risikerer at gå i stykker og miste sin form, når den bliver kogt. Hvis pastaen i stedet produceres gennem teflonforme, så forbedres kogeevnen – men pastaen får en helt glat overflade, hvor sovs og smag har svært ved at hænge fast. 
Det store pasta-dilemma har Rummo løst ved at udvikle en ny type bronzeform til produktion af pasta efter Lenta Lavorazione® metoden. Den patenterede pastaform er lavet af bronze og teflon og sikrer derfor både den gode kogevne og pastaens evne til at optage smag fra sovsen. 
De fire varianter
Indtil videre kan du vælge mellem fire forskellige pastavarianter fra Rummo Lenta Lavorazione® i de danske supermarkeder:
Penne rigate: De helt klassiske rillede og rørformede penne
Spaghetti alla Chitarra:  En særlig variant af spaghetti, der ikke er rund, men firkantet. 
Fusillotti®: Ekstra store skruer, som kun Rummo producerer

Mezzi paccheri rigati: Store rillede pastarør – kongen af det napoletanske pastakøkken
 PS. I næste uge (uge 8) er der introtilbud på Rummo Lenta Lavorazione® i SuperBrugsen – ugen efter fra torsdag har Fakta Rummo Lenta Lavorazione® som spotvare – det er to andre varianter, Fusilli og Rigatoni, og de fås i pakker af et kilo. Samme uge (uge 9) kører Kvickly et introtilbud.