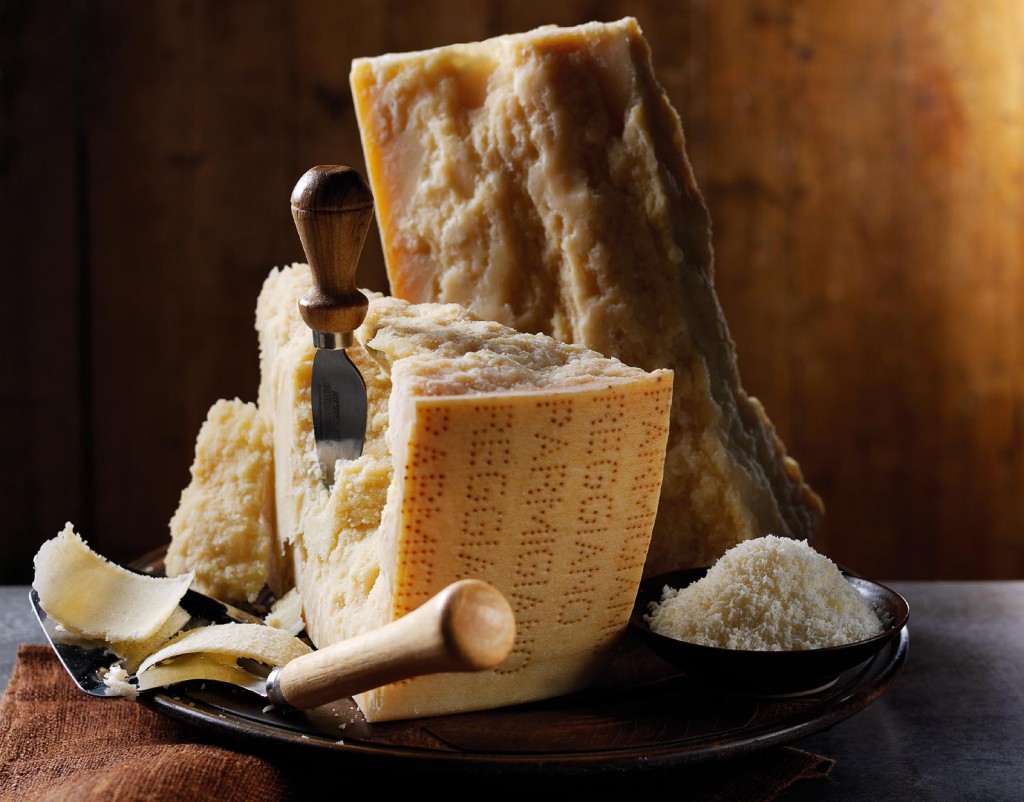 Ost af typen Parmigiano Reggiano eller Grana Padano er faste råvarer i vores køleskab – og i de fleste italieneres – og går igen i rigtigt mange af vores opskrifter her på bloggen. Hvad er egentlig forskellen på de to italienske oste, hvornår er det bedst at bruge den ene eller den anden, og hvordan finder du den bedste variant i supermarkedet?
Det får du lige en håndfuld tips til her.
Parmigiano Reggiano og Grana Padano er begge hårde italienske oste lavet på upasteuriseret komælk. Begge oste er mærket DOP (Denominazione d'origine protetta), det betyder, at de hver især er underlagt strenge krav til, hvor og hvordan de skal produceres.  
De to oste ligner hinanden til forveksling i køledisken, og de kan også smage ret ens.  Men der er forskel på, hvordan de to oste produceres, derfor er der også variationer i smag og konsistens – især lagringen gør en forskel.
Begge oste bruges revet over pasta, risotto og supper i Italien. De bruges i 'polpette' (frikadeller), æggekager, i fyldt pasta som ravioli og i alle mulige andre retter.
Generelt har en Parmiggiano Reggiano en mere kompleks smag, og egner sig bedre til at spise for sig selv i stykker, og osten er også dyrere end en Grana Padano.
5 forskelle på Grana Padano og Parmigiano Reggiano

Ostene produceres i forskellige områder i Italien. Grana Padano produceres i et større område i Norditalien, der tæller en række regioner omkring Po-dalen fra Piemonte til Veneto. Parmigiano Reggiano produceres i et mindre område omkring Emiglia-Romagna, Parma, Reggio Emilia, Bologna, Modena og en del af Mantova.
Køernes foder er forskelligt. Mælk der bruges til at producere Parmigiano Reggiono kommer fra køer, der udelukkende har spist græs fra de zoner i Italien, hvor osten produceres. Køerne der producerer mælk til Grana Padano, må også gerne få ensilage.
konserveringsmidler er ikke tilladt i en Parmigiano Reggiano, mens visse konserveringsmidler er ok i en Grana Padano.
En Parmigiano Reggiano lagres længere end Grana Padano. Parmiggiano Reggiano lagres minimum 12 måneder og til over 36 måneder. En Grana Padano lagres fra minimum ni måneder til over 20 måneder. Jo længere lagring, jo mere og bedre smag.
En Grana Padano har en lidt lavere fedtprocent end en Parmigiano Reggiano.
6 tips
Køb altid – ALTID – et helt stykke ost og riv det selv.  
Riv osten på den side af rivejernet, der smuldrer osten – ikke den, der river det i stribede små eller store flager. Det er jo ikke råkost.
Bræk stykker af osten (med spidsen af en kniv), i stedet for at skære, hvis du serverer større stykker som fx aperitivo – det bevarer ostens struktur og smag bedre.
Hvis du vil gå hele vejen og efterligne italienerne, så anskaf dig den lille spidse mandelformede kniv (coltello a mandorla) – den giver det perfekte resultat og ser så autentisk ud på ostefadet.
Køb den ægte vare og pas på efterligninger af de originale oste – se efter navn og logo på produktet, når du køber ind.
Konserver osten i køleskab i et fugtigt bomuldsklæde – eller i en plastikbeholder, hvis du ikke spiser den så hurtigt. Brug ikke køkkenfilm.
Bonusinfo:  Vi har prøvet de fleste mærker i de danske supermarkeder, der er ikke de store oplevelser at komme efter, desværre. Aldi forhandler den bedste udgave, en udmærket Parmigiano Reggiano, lagret 24 måneder, som er et absolut ok køb til prisen. (nej, det er ikke os, der sælger osten i Aldi…til gengæld importerer vi Italiens bedste pasta, som du kan rive osten over.. 😉 )