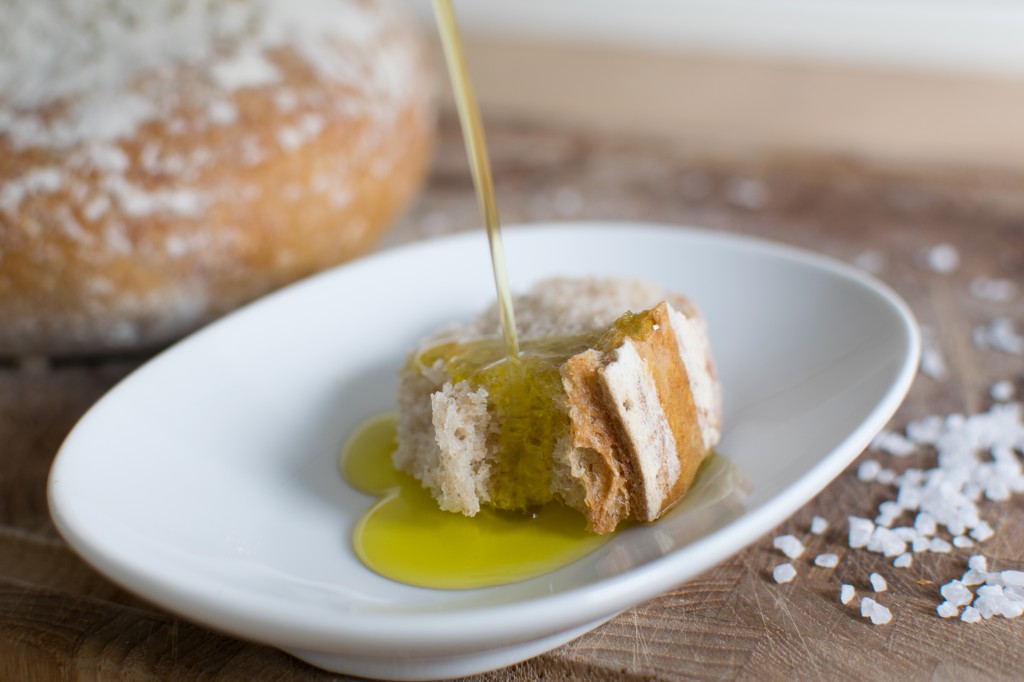 Vi bruger ekstra jomfru olivenolie i stort set samtlige opskrifter her på bloggen – en god olivenolie er helt fundamental for de fleste italienske opskrifter. Det har du sikkert lagt mærke til, hvis du har fulgt med her. 
Mange spørger, om vi kan anbefale en god ekstra jomfru olivenolie, og nu må jeg desværre skuffe. Vi køber næsten aldrig olivenolie i de danske supermarkeder. Olivenolie er én af de ting, vi stadig fragter hjem i kufferten fra Italien i store mængder. Min svigerfamilie dyrker selv oliven i Ligurien, så mange år er det olivenolie fra egen høst – og når der ikke er mere af den, så køber vi ind i treliters dunke, så det rækker indtil næste Italienstur. Desværre er udvalget af olivenolie bare ikke særligt godt i Danmark. Derfor kan jeg ikke anbefale én olie fremfor en anden, men jeg kan da give et par tips til turen i supermarkedet eller specialbutikken – for det er klart, at noget olivenolie er bedre end andet – og der er også olier, du skal gå langt udenom.
For nogle år siden var jeg til olivenolie-smagning (lidt ligesom en vinsmagning) med Cathrine Fogel, der er uddannet leder af de officielle smagninger af olivenolie i Italien. Det vil jeg til gengæld anbefale at prøve, hvis du en dag får muligheden. Helt basalt for at vælge en god olivenolie (det gælder jo alle råvarer i øvrigt), er selvfølgelig, at du kan smage forskellen – og dermed genkende kvalitet. Det er meget anderledes at dufte og smage på olien rent, og opleve alle nuancer, i forhold til at smage den med brød eller mad, som man typisk gør. 
Her er, hvad du kan gå efter i butikken, når du køber olivenolie:
1. Køb altid kun ekstra jomfru olivenolie. Det må være regel nummer et – bryd den aldrig, så kan det ikke gå helt galt. 'Ekstra jomfru olivenolie' er den bedste klassifikation af olivenolie, den har ingen fejl i smagen. Olien koldpresses inden 24 timer efter høst – den produceres helt uden nogen form for behandling eller tilsætning. Oliven, intet andet. 'Jomfru olivenolie' må have en fejlmargin i duft og smag på op til 20 procent, og 'olivenolie' op til 25 procent. Køb aldrig 'sansaolie', som produceres af rester af oliven og sten efter presningen eller 'raffineret olivenolie' – der er den dårligste klassifikation, hvor olien er blevet behandlet kemisk for at rette fejl – den har ingen smag, duft eller farve.
2. Køb ekstra jomfru olivenolie i mørke flasker. Olivenolie har ikke godt af lys og varme – den bliver hurtigere harsk, når den får lys, derfor beskytter de mørke flasker, og der er større sandsynlighed for, at olien ikke er ødelagt af tiden på hylden i butikken, hvor den er udsat for masser af lys.
3. Se efter datomærkningen. Olivenolie skal helst spises inden for det første år efter høsten, men den må sælges op til to år efter. Hvis ikke flasken er mærket med høsttidspunktet, kan du regne to år baglæns fra 'mindst holdbar til'- datoen. Gå efter ekstra jomfru olivenolie, der er så tæt på høsttidspunktet, som muligt. Høsttidspunktet kan også give en indikation på, hvor kraftig smag, olivenolien har. En tidlig høst først på efteråret i oktober giver en stærk smag, mens en senere høst i december eller januar giver en mildere smag. 
4. Se efter oprindelsesland og DOP-mærket. Selvom olien har et navn, der klinger Italiensk og er prydet med italienske flag eller landskaber på etiketten, er det ingen som helst garanti for, at indholdet i flasken er italiensk. Mange olivenolier på de danske butikshylder bliver produceret af oliven fra hele EU. Hvis du kigger efter DOP-mærket (beskyttet oprindelse) har du sikkerhed for ekstra jomfru olivenoliens kvalitet og oprindelse. De mindre producenter, som bruger oliven fra egen produktion og skilter med det, vil ofte have et langt bedre produkt.
5. Smag på olien. Det er selvfølgelig den bedste måde at afgøre, om olien er god. Den mest almindelige fejl, du kan opleve, er at olien er blevet harsk (smager muggent, hengemt – tænk harsk hasselnød, gamle peanuts) – det bliver al olivenolie med tiden, selv den allerfineste (og dyreste) ekstra jomfru olivenolie. Hvor hurtigt, det går, afhænger af mange ting – især oliens eksponering for lys, varme og ilt. Derfor skal du beskytte olien mod netop det. Hvis ikke du bruger ekstra jomfru olivenolie så tit, så køb en mindre flaske. Og så er det vigtigt, at du ikke sparer på ekstra jomfru olivenolie – når først du har åbnet flasken med olie, så brug den! Som tommelfingerregel kan en kraftig olivenolie fra en tidlig høst holde sig længere end en mild olie presset af modne oliven fra en sen høst.