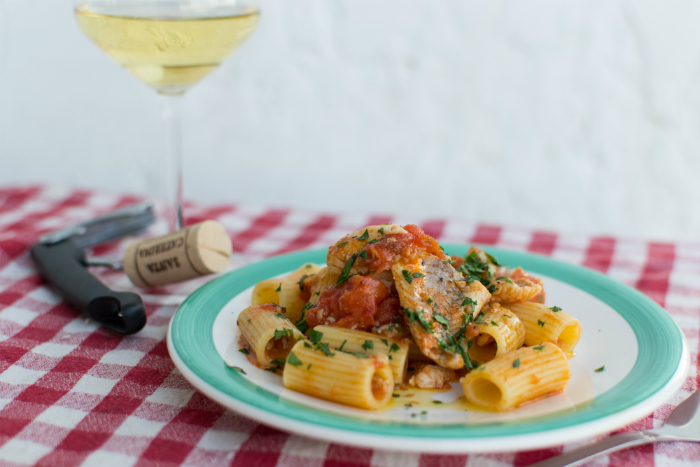 Her kommer opskriften på en dejlig fiskeragú til pasta. Vi brugte knurhane (ikke så tit, man får den fisk serveret i Danmark – jeg måtte faktisk lige slå op, hvad den overhovedet hed på dansk), men du kan også bruge rødfisk, som er lige så god eller endnu bedre i denne ret.
Hvis du får fiskehandleren til at filettere fisken, så bed om at få fiskeben og skind med hjem – det kan du koge fiskevand af, som du enten kan bruge til at koge pastaen i, for at give ekstra smag, eller du kan bruge lidt af det i ragùen. Der findes to typer knurhaner i Danmark – den røde og den grå. Vi brugte den røde art, som også går for at være den mest velsmagende af de to.
Der er ikke mange ingredienser i denne ret – til gengæld skal de få, der er (som altid) være gode, hvis retten skal blive en succes. Brug kun friske cherrytomater, hvis de er solmodne og meget saftfulde. Ellers får du et meget bedre resultat med cherrytomater fra dåse eller glas af god kvalitet, fx fra Coppola.
Vi brugte pastatypen Mezzo Rigatoni fra Rummo, som egner sig supergodt til denne ret, fordi fiskestykkerne i ragúen kan gemme sig inde i pastarørerne.
Det skal du bruge (4 personer)
Filetterne fra 3 små knurhaner (ca. 4-500 gr. fiskekød )
4-5 fed hvidløg
1 dåse cherrytomater
Ekstra jomfru olivenolie
Et lille glas hvidvin
Bredbladet persille
Salt 
Peber
500 gr. pasta af typen mezzi rigatoni
Sådan gør du
Start med at skære to af knurhanefiletterne i små stykker, de sidste fire filetter lægger du til side, de skal serveres hele (hvis det er store filetter, så skær 8 lidt større stykker fisk ud af filetterne og læg til side – skær resten i mindre stykker).
Varm en god slat ekstra jomfru olivenolie op på panden. Tilsæt de hele fed hvidløg, som du lige har givet et tryk, så saften kan give smag til olien. Når panden er godt varm, tilsætter du fisken (kun de små stykker) og straks efterefter hvidvinen. Lad alkoholen fordampe.
Tilsæt så cherrytomaterne, salt og peber og drys med hakket bredbladet persille. Lad det hele blive blandet godt sammen – men det skal ikke simre længe, så bliver fisken tør. Tilsæt til sidst de fire knurhanefiletter (eller de otte større stykker), som du lægger oven på ragùen på panden. Læg låg på, og sluk for blusset.
Kog pastaen, til den er al dente. Tjek om de hele knurhanefiletter er møre – ellers tænd op for blusset igen, så de kan blive gennemvarme. Fjern filetterne fra panden igen, inden du dræner pastaen og blander den sammen med ragùen på panden.
Anret pastaen med ragù af knurhane med en knurhanefilet på toppen af hver portion, giv et ekstra skvæt ekstra jomfru olivenolie og drys med friskkværnet peber og bredbladet persille.
PS. Husk – fra den store italienske regelsamling: aldrig Parmigiano Reggiano eller Grana Padano på pastaretter med fisk.