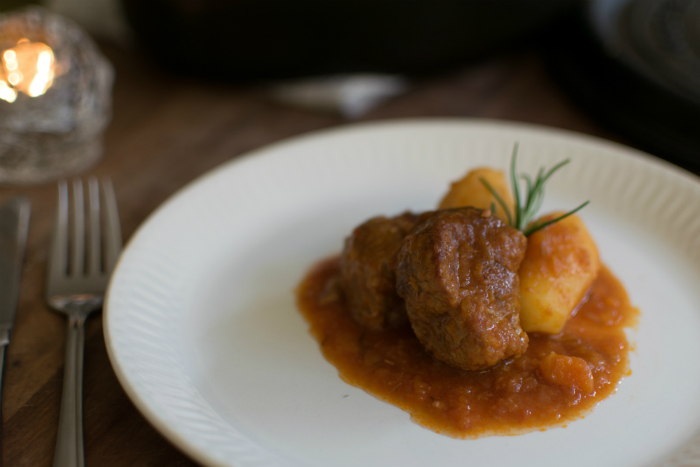 Det er simretid. Det bedste er at komme ind fra kulde, riv og rusk til et duftende køkken med vinduer, der dugger. I gryden simrer det møreste kalvekød med krydderurter og kartofler. Vinteren kan bare komme an.
Her er opskriften på en traditionel italiensk stuvning. Retten kan varieres i det uendelige, denne gang brugte vi kalvekød og kartofler, men du kan også undlade kartoflerne i gryden og servere retten med kartoffelmos eller polenta.
Brug en gryde af terracotta (hvis du har gasblus – heldige dig) eller støbejern. Retten er perfekt, når der kommer gæster, som du gerne vil hygge med, mens gryden passer sig selv i køkkenet. Du kan også uden problemer tilberede retten dagen før, den skal spises.
Du skal bruge
1 kg kalvekød
Ca. 10-12  kartofler
1 løg
1 gulerod
1 stilk bladselleri
1 dl ekstra jomfru olivenolie
100 gr. smør
Hvedemel
Salt 
Hele peber korn
Frisk rosmarin, laurbærblade og salvie
1 glas hvidvin
1/2 liter kødfond eller boullion
1 dåse flåede tomater
Sådan gør du
Snit løg, bladselleri og gulerod fint til en soffritto. Lad nogle af gulerodstykkerne være i lidt større stykker. Svits grøntsagerne stille og roligt i ekstra jomfru olivenolie ved lav varme, så de ikke brænder på eller karamelliserer.
Skær kalvekødet i grove terninger på ca. 3 cm på hver side. Skær kødet på tværs af fibrene for et mørt resultat. Vend kødstykkerne i mel, men bank overskydende mel af, så der bare er et tyndt lag på hvert stykke.
Smelt smørret i en anden gryde – gerne af teflon. Vend kødstykkerne i smørret ved høj varme, så kødet lukker sig og får en lille stegeskorpe på alle siderne. Du må stege kødet i flere hold, med mindre det er en stor gryde. Læg de færdige kødstykker på en tallerken.
Tilsæt så kødet og væden fra stegningen til grøntsagerne i den anden gryden ved høj varme. Tilsæt hvidvin og lad alkoholen fordampe. Tilsæt de flåede tomater – uden tomatsovsen fra dåsen. Rør rundt, og tilsæt salt, peber og de friske krydderurter – bind dem evt. sammen med lidt køkkensnor, så er de nemme at fiske op igen, når retten er færdig. Tilsæt en eller to øser af kødfond eller boullion. Pas på med for meget væde på en gang. Kødet skal ikke koge. Du skal røre rundt og sørge for, at væden bliver fordelt på kødet.
Skru nu ned for varmen og lad kød og grøntsager simre under låg. Rør rundt en gang imellem. Efter ca. halvanden time kan du tilsætte kartofler, hvis de er store, så skær dem i halve eller kvarte. Tjek kødet en gang imellem – stik en gaffel i, når den glider ind som i smør, er kødet klar. Sluk og lad gryden stå i en halv time, så retten sætter sig.
Server med brød.
5 fejl, du altid skal undgå for at opnå det perfekte resultat af din stuvning:
#1 Magert kød i stedet for fedt
Gå langt uden om de der bakker i supermarkedet med 'gullash-tern'. Det er magert kød, som bliver til små hårde og tørre klumper. Kødet skal kunne skæres ud med siden af din gaffel og smelte på tungen, og det møre resultat opnår du med et stykke kød, der har masser af fedtmarmorering – sig til slagteren, at du skal bruge et stykke kød, der har godt med fedt.
#2 Ikke at følge proceduren med at svitse grøntsager og kød hver for sig for sig. 
Det er vigtigt for resultatet, at du ikke hælder grøntsager og kød i samme gryde til en start, for de forskellige ingredienser har brug for at stege ved helt forskellige temperaturer. Grøntsagerne skal svitses stille og roligt ved lav varme, mens kødet skal have en hurtig tur i gryden ved høj varme. Så spring ikke den procedure over.
#3 Ikke at bruge mel
Melet giver det helt rigtige cremede resultat, som er meget sværere at opnå, hvis du udelader melet.
#4 For meget væske
Det er supervigtigt, at kødet ikke er dækket helt af væske i gryden, så det koger. Det er ikke en suppe, så tilsæt hellere fond eller boullion lidt af gangen.
#5 Ikke at overholde hviletiden
Selvom du har ventet længe, og du er sulten, så hav tålmodighed og lad din stuvning hvile den halve times tid, når den er klar. Ingredienserne sætter sig og du opnår optimal konsistens og smag.