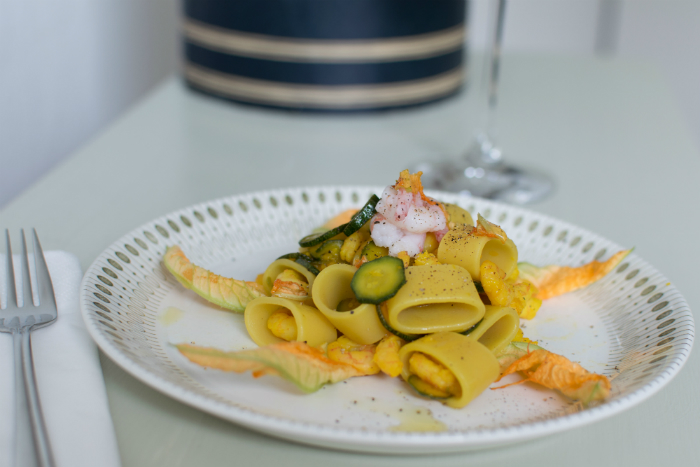 Squash, rejer og safran er en helt klassisk, og virkelig velsmagende,  trio i det italienske køkken. Som altid, er det altafgørende for resultatet, at råvarerne er i top. Vi dyrker selv squash i haven (de vokser så fint i Danmark uden drivhus), hvilket er en stor fordel med netop denne grøntsag, som er helt umulig at opdrive i sin rette form og størrelse i danske supermarkeder.
Den perfekte squash er 15 cm lang, ikke tykkere end en almindelig gulerod og har stadig den friske orange blomst for enden. Squashblomsten er den mest anvendte blomst i køkkenet i Italien – og det længe før og helt uafhængigt af køkkenmoden, der for tiden dikterer blomster i maden. 
Det er altså vigtigt, at squash'ene er små og gode.  Mærk på dem – så tynde og små som muligt.  Rør ved enderne, de skal være hårde. De tykke squash er fulde af vand og frø (lidt ligesom en agurk, der er blevet for stor).  
En anden vigtig ingrediens er safranpulver, som desværre også er ret umuligt at finde i danske butikker. Vi har det med hjem i kufferten hver gang, vi har været i Italien. Det er ikke fordi, safran som sådan er bedre i pulverform. Det er bare så smart med det der pulver, der er 'ready to go' – i forhold til safrantråde, som man kan købe i Danmark, der først skal trække i vand, osv.
Men hvis du kun har safran i tråde, kan du bare bruge det – så må du lige konsultere pakken for anvisninger.
Nå ja, og så skal pastaen selvfølgelig være i top. Vi foreslår som altid Rummo.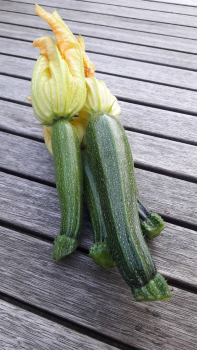 Ingredienser 4 personer
300 gr. rejer
4-5 små squash (1-2 hvis det er de store fra supermarkedet)
Et brev safran
3-4 fed hvidløg
Ekstra jomfru olivenolie
Et skvæt hvidvin
Squashblomsterne (hvis du har squash i haven)
Bredbladet persille
Salt
Peber
500 gr. pasta af typen calamarata (mezzi paccheri eller penne er også fint – men brug ikke en lang pasta)
Sådan gør du
Skær squash ud i tynde skiver (eller tændstik-tynde stykker, hvis det er en squash i den størrelse, du finder i supermarkedet).
Varm et godt skvæt ekstra jomfru olivenolie på en pande. Lad de hele fed hvidløg give olien smag, lad skrællen blive på, men giv dem lige et tryk med hånden, sådan undgår du, de brænder på. Kom squash'en på den varme pande ved høj varme, tilsæt salt og peber og et skvæt hvidvin, lad alkoholen fordampe. Lad dem stå i et par minutter på panden, de skal ikke blive helt møre, men stadig have lidt bid – pas på, de ikke brænder på.
Sluk for varmen, og tilsæt så rejerne (de skal være tøet helt op og skyllet, hvis de er fra frost). Tilsæt også squashblomsterne, hvis du er så heldig at have dem. Og persille. Rør rundt. Opløs safranpulveret i en halv øse varmt pastavand, og tilsæt det til sovsen (hvis du bruger safran i tråde, så følg anvisningerne på pakken).
Kog pastaen, til den er al dente,og bland den straks med sovsen. Server med et skvæt ekstra jomfru olivenolie og friskkvernet peber.