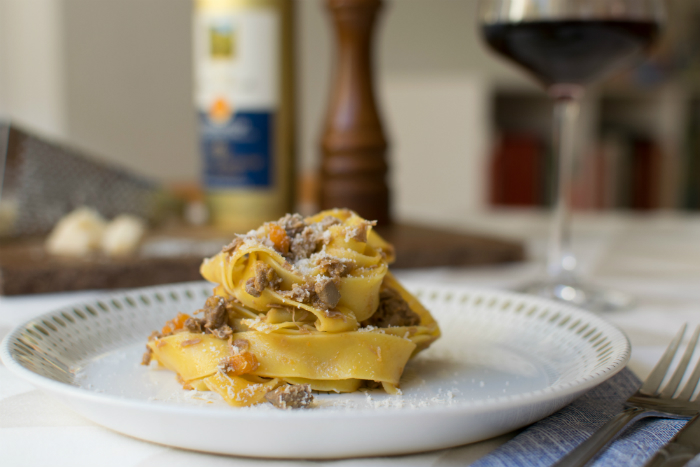 Her er en pastaret med and. Det er en ret, som bliver spist meget i det nordlige Italien, nærmere bestemt regionen Veneto, hvor andegagùen også går under navnet 'sugo di nana'. I Toscana bruger de også meget and og andet vildt i køkkenet, men her bruger de gerne mere tomat i sovsen, end vi har brugt i denne opskrift. 
Server altid anderagù sammen med en pasta med æg, vi brugte pappardelle fra Rummo – men tagliatelle eller en anden pasta 'all'uovo' er også glimrende. Du kan selvfølgelig også lave frisk pasta selv. 
Vi brugte en hel and og lavede en ordentlig portion – der var nok til 10-12 mennesker. Gæsterne blev mætte, og der var stadig en portion til fryseren, som gør gavn på en travl dag. Retten tager tid, men den er godt investeret.
Ingredienser (til 10-12 personer)
1 and
3 Løg
6 gulerødder
3 stilke bladselleri
Ekstra Jomfru olivenolie
Salt & peber
Salvie
Rosmarin
Laurbærblade
1 glas Hvidvin
En lille dåse tomatkoncentrat
Pappardelle (ca. 100 gr. pr person)
Sådan gør du
Rens anden, skil kødet fra benene og fjern skindet. Hak indmaden helt fint med en kniv eller i kødhakkeren. Selve kødet skærer du ud i tern. Snit krydderurterne fint.
Lav en andefond, ved at svitse et løg, en gulerod og en stilk bladselleri i ekstra jomfru oliven olie, læg andeskroget i gryden og hæld vand over, så det dækker. Lad det simre en times tid og filtrer så fonden. Nu er du klar til at gå igang med selve opskriften.
Lav en soffritto af løg, gulerødder og bladselleri. Svits grøntsagerne i en gryde i godt med ekstra jomfru olivenolie. Kom så andekød og indmad i gryden. Når den er godt varm, hælder du vin over, og lader alkoholden fordampe. Kom krydderurter, salt og peber i.
Opløs tomatkoncentrat i en øse andefond, og kom det i gryden. Lad det simre. Tilsæt yderligere to-tre øser fond. Det skal være vådt, men ikke en suppe. Lad ragùen simre stille og roligt under låg i  minimum en time. Smag til med salt.
Kog pastaen og bland den med raguen.
Server straks og drys med ost af typen Parmiggiano Reggiano eller Grana Padano.