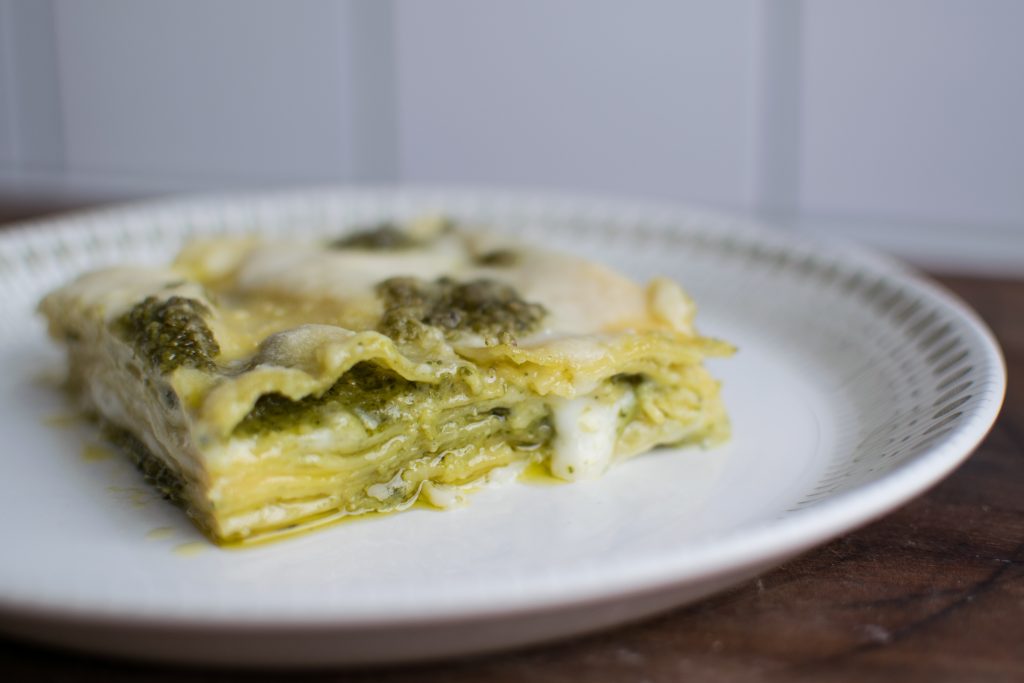 Lasagne al pesto er den anden (og lidt mindre kendte) af de mest klassiske måder at lave lasagne på – den første er selvfølgelig lasagne alla bolognese.
Det her er nok en af de nemmeste retter, du kan lave fra det italienske køkken – en stensikker succes hos både børn og voksne. Vi brugte den fantastiske pesto fra Frantoio Venturino, men du kan selvfølgelig også lave din pesto selv fra bunden. Det er vigtigt at bruge en pesto af høj kvalitet med lav syrlighed.
Hvis du laver din egen pesto til lasagnen, så brug en god olivenolie – og hold lidt igen med hvidløg.
Ingredienser til 4 personer
100 gr. smør
100 gr. hvedemel
1 liter sødmælk
1 tsk. salt
1 tsk. revet muskatnød
1 1/2 glas pesto fra Frantoio Venturino (så meget, du synes)
500 gr. lasagneplader med æg fra Rummo
100 gr. Parmigiano Reggiano
100 gr. Pecorino Romano
Sådan gør du
Forvarm ovnen til 180 grader.
Start så med at tilberede sovsen, 'besciamella', i en kasserolle. Smelt smørret og tilsæt hvedemel, mens du rører med et piskeris. Tilsæt så sødmælken ad to omgange, men du hele tiden rører rundt. Tilsæt salt og revet muskatnød. Bliv ved med at røre, mens sovsen varmer op. Når sovsen har den rette konsistens, hælder du den over i en skål. Den skal endelig ikke være for tyk – ellers bliver lasagnen tør.
Forkog lasagnepladerne ca. 4 minutter. Læg dem derefter ud på et viskestykke, så de ikke klistrer sammen.
Riv Parmigiano Reggiano og Pecorino Romano fint og bland de to oste sammen.
Smør et ildfast fad med smør eller med lidt af besciamella-sovsen. Læg så et lag plader efterfulgt af en lag pesto og besciamella – det skal ikke smøres ud, men lægges i klatter fordelt over lasagnepladerne. Drys med ostemixet. Gå videre og lav mindst fem lag.
På det sidste lag drysser du med lidt ekstra ost.
Sæt i ovnen i ca. 20 minutter – til du kan se, at lasagnen er brunet lidt på toppen.
Lad lasagnen sætte sig lidt og server. Velbekomme.